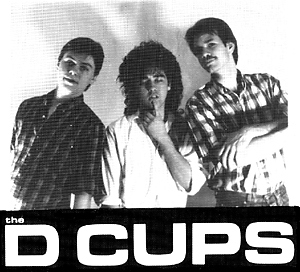 D CUPS-
READY TO BREAK UP
[ no longer available ]

The first release by the D Cups features off-key vocals, cheesy keyboards and strange rhythms. In other words, nothing has changed.

REVIEW:
"With a name like that, I guess you weren't expecting the Mormon Tabernacle Choir. Yep, these guys are as funny as dogshit on someone else's shoes. In their first song they proudly proclaim "We're not like other bands." If a 2 sentence C&W song is any example (it is), then they sure aren't. You can hear "Squirrel, You've Got A Banjo Now". Done to the tune of The Kinks "You Really Got Me". You can also hear "I'm A Man." rewritten as "Them Shooz", complete with bluesy colored-guys vocals. There are lots of cheesy electronics, clear viocals, weird instruments, (a toy organ??) but the true keys are the lyrics. Take the erotic song about the Disco Dolphin: "Over the blowhole she ran her hand". "Connie", a talking country-blues number has some of the most clever forced rhymes this side of Sondheim. There's also a kiddies song about a five-year-old armed extortionist, a Dylanesque parody complete with bad harmonica, and a "Beach Bitch" song about a nasty knockout "Soaking up the gamma rays", while the guys "get an eyefull of mammaries". Yes, it rhymes." --Mykel Board Nothing But Record Reviews

D CUPS-
From Nowhere to Naugahyde
[ no longer available ]

The D Cups' sophomoric effort features songs about squirrels, dead presidents and Ben Vereen.

REVIEW:
"If the D Cups achieve anything on this comedy tape, it's to make the sophomoric humor of your average Dead Milkmen disc seem sophisticated by comparison. These Dr. Demento rejects amuse themselves by singing about bodily fluids and setting up punchlines around a gang rape (" Do The Train"). On a tape where the offensive quip is king, the music (thrash, folk, country, rap) is rarely more than an afterthought. So, for that matter, is taste." --John Blanco New Times Weekly

D CUPS-
New And Obsolete
$ 7.00 (LP) [order this lp]

REVIEWS:
"A fantastic DIY album put together by a band with an incredible sense of humor. They sound like a mixture of The Monkees, TheVictor Banana, SugarPlastic, Bongwater and The Tinklers. Real imaginative packaging. I mean- these guys DO have a fucking clue and make fun of even that. All thirty eight songs are totally cool. Check out: "I'm In Love With A Carbohydrate", "Michael Motorcycle" (with it's nursery rhymes), "Jerry's Kids", "Nun Jockey", "Lifeboat", and all the rest." --Cake Flipside January 1994


"You may wanna think twice before you enter the D Cups' universe- a place where a fifty cent ticket will put ya on a runaway Tilt-A-Whirl ride from one demented disco to the next and your only worry will be deciding whether to follow the ecstasy with a pot or a bourbon chaser. These Mesa, AZ dirt farmers do indeed practice that charlatan shell game known as genre hopping, and in their case, it's from country to punk to commercial jingles and everything in between. The execution is pretty damned standup, but the end product is so fuckin' annoying that I could only listen to about four songs in a row without looking for a heavy object to throw. And when you figure there're 38 tracks on this record, that totals to a pretty fair share of property damage if one were to go for a "complete" listen. Sorta makes the Zipcode Rapists and Easy Goings sound appealing." --Mike Trouchon Your Flesh # 29

THE D CUPS GRATUITOUS SEX & VIOLENCE SHOW
[ no longer available ]

Sort of a combination of The Monkees, Letterman, and public access. Not for the kids since it contains bare titties. The show runs one hour, then you get another hour of weird bonus footage. Woo hoo!
"The 'Citizen Kane' of underground home movies!!!" - Russ Stedman

DESERT BEETLES
$2.00 [order this tape]

Features Beatles covers by Arizona bands, including the 17 second "Her Majesty" by the fab gear D Cups! We have a VERY limited supply of these tapes and when they're gone, they're gone. A steal at $2.00! i buried Dave!